The most amazing thing happened on my holidays.  In the middle of nowhere, deep in the heart of New Zealand's wild fiord country, I was given a dream photoshoot.  I'd been wanting to walk the Milford Track for 10 years, and had finally got there! Maybe it was right time right place, maybe it was meant to be all along, either way it blew my mind.
The beautiful bride Brittany and her husband Chris had been married two weeks earlier in Texas, USA.  Her dress was made by Ru de Seine, a New Zealand based designer and they had decided to bring her dress with them to NZ and carry it on the trek to photograph her gorgeous gown somewhere along the Milford Track.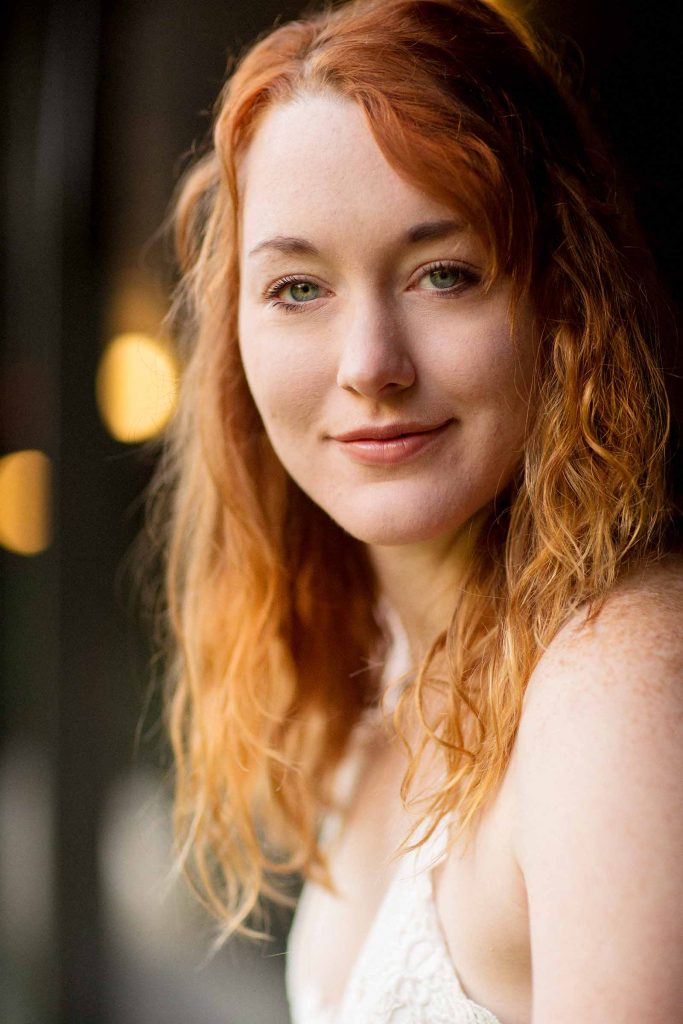 They had decided that Quintin Lodge was the place for the photos, you can see why!  They had very considerately waited behind to get some shots, not wanting to draw attention or interrupt the other walkers or detract from their own journey and experience on the track.  Chris had his iPhone out and ready to snap away.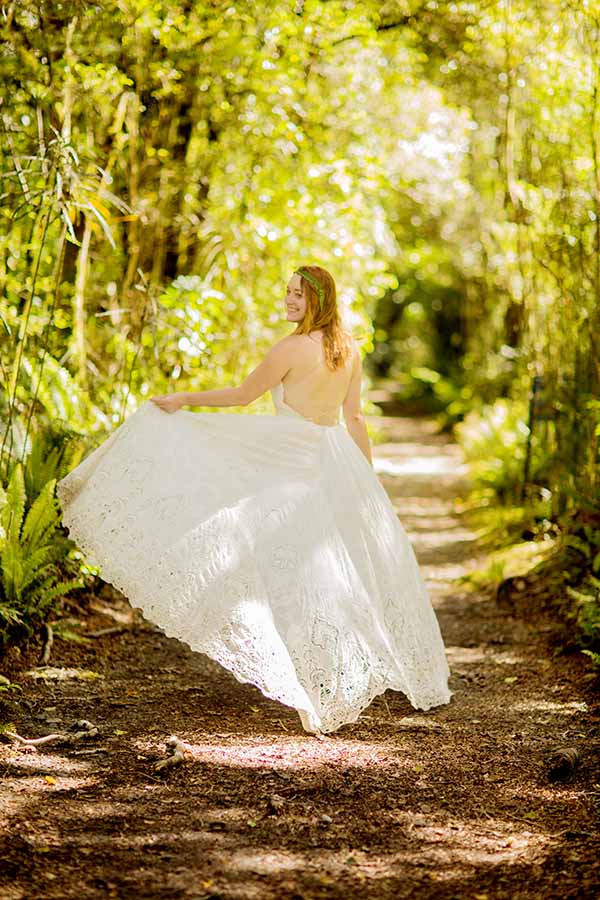 This is when they quite literally walked out in front of me! LITERALLY!! I was standing on the abandoned runway, snapping a last few shots whilst waiting for our group to be ready, and then there she was.  Standing in front of me, a portrait photographer, in one of the most beautiful locations.  That wide angled lens could have been thrown on the ground for all I cared, I could not get my 85mm on my camera fast enough!  I don't think I had even moved my feet before I had her in her first pose!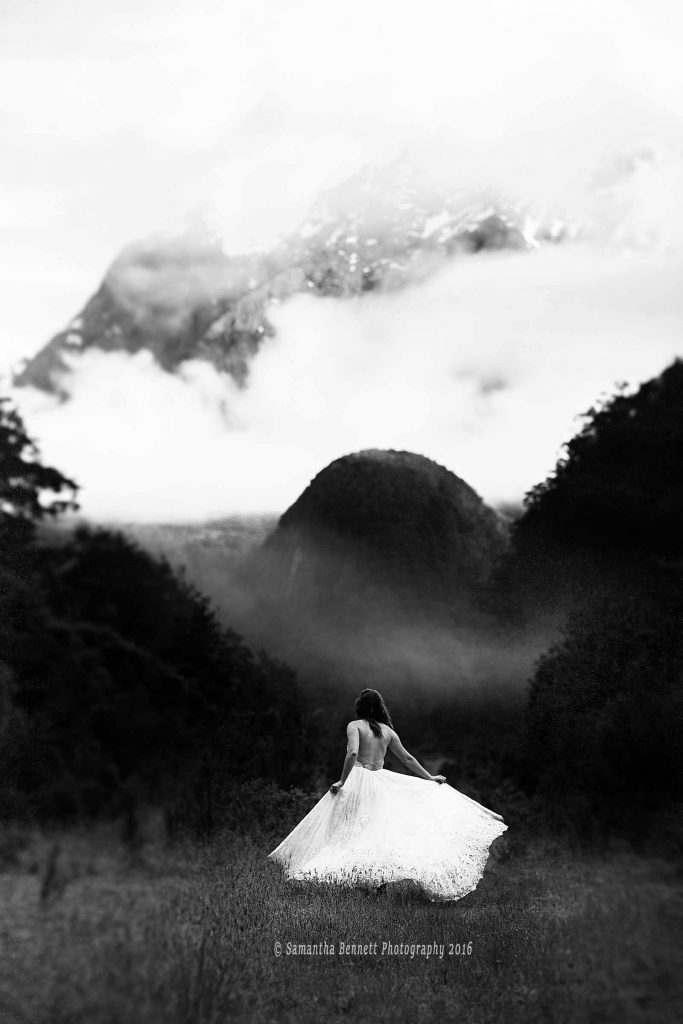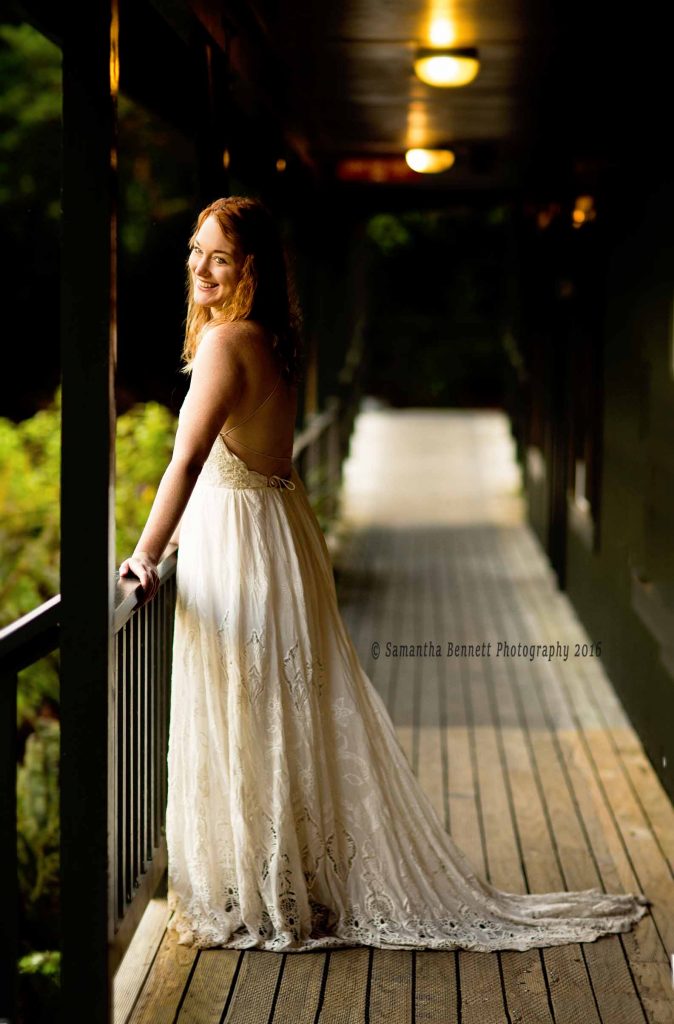 I was told afterwards that I had started shooting before even checking to make sure they wanted me to take any photos, apparently telling the groom to hang back a bit and relax, I got this.   Sorry Chris …  I just couldn't help myself!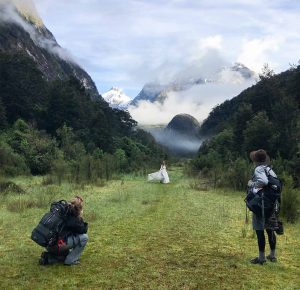 I could have missed this, so easily.  Had my nephew not been dragging the chain (Toby – I owe you one!) we would have left 10 mins earlier.  Not only would I not have seen her or had the chance to shoot her, I wouldn't never have known that she even had the dress in her pack.
I had 10 mins at Quintin Lodge and another 15 mins at the very end of the track (a 20km walk from where the first photos were taken!) at the aptly named Sandfly Point.  Brittany braved the sandflies and put her gown on once more for some final images.  What a way to finish the Milford Track.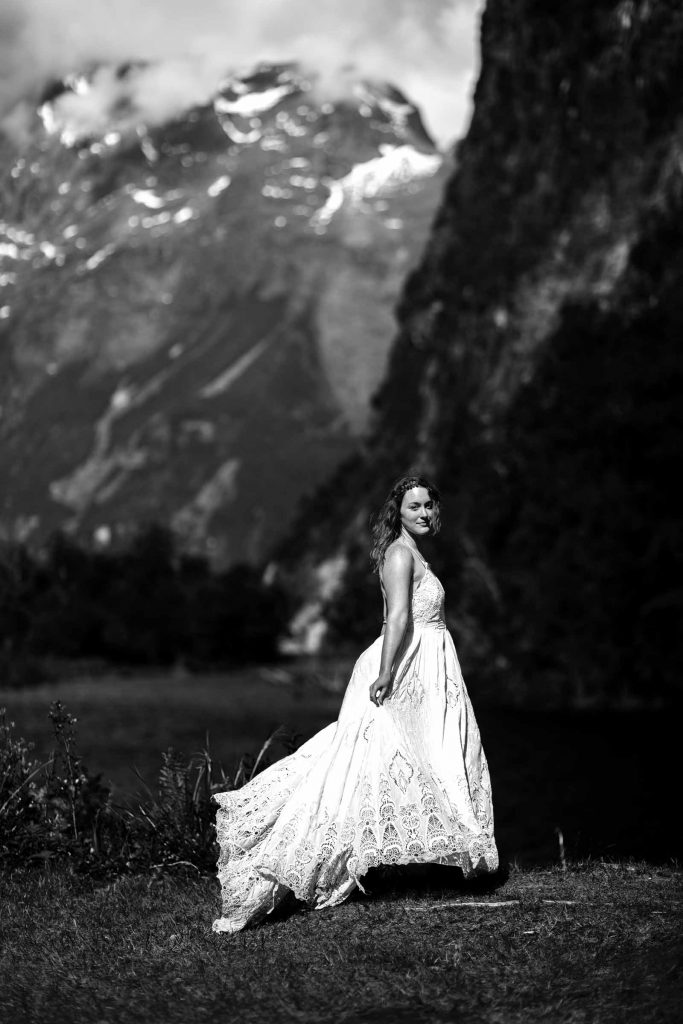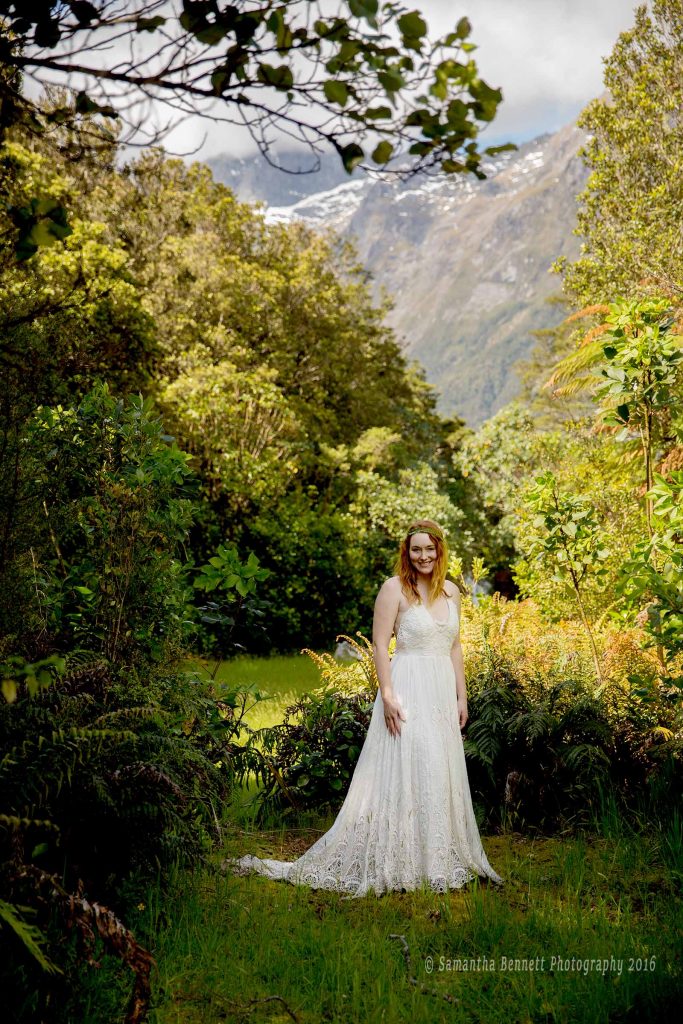 On sharing some images with one our guides Kelly, he informed that the snow covered mountain in the background on the Qunitin Lodge runway was actually called "Lady of the Snow", and I couldn't imagine a more fitting title for the shoot and the images.
I hope you have enjoyed my "Lady of the Snow" images.  Congratulations to Brittney and Chris on your wedding and thank you for letting me capture these, it was a brief moment in time that will live with me always.  We were meant to cross paths, so just in case this is not the end of our story I just want to put it out there that Sam is a unisex name…… wink wink…..
---
You might also like